Welcome to Gift Ideas
Wedding gift idea: Get me a baby picture of the bride and another of the groom, and I can create some pretty fantastic things! You'll need to provide me with written confirmation that you have the rights to the photos for copyright reasons.



Another fun idea, combining your old photographs to bridge the span of time when you had your puppy, kitten or bird and combine them with your children's photos. The above is one example of a photographic result that was never real in life. But sure looks real (sometimes). But lots of fun.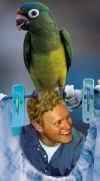 Vacation Photos: Great gift idea, merge some of your favorite photos in a collage, digitally or printed.

Pets: Create really great results from your favorite old photos.
Reunions: Combine all baby photos, or create a group collage.
[ Computer Ideas ] [ Design Ideas ] [ Feelings ] [ Game Ideas ] [ Garden Ideas ] [ Gift Ideas ] [ Hiking Home Page ] [ House Ideas ] [ Internet Ideas ] [ Large Creations ] [ Pets ] [ New Venture Ideas ] [ Quit Smoking ] [ Photo Ideas ] [ Productivity Ideas ] [ Uniqueness ] [ What If ]
Created by: Creative Customized Solutions