Welcome to Garden Ideas
One part creativity, one part garden, one part digital camera, one part computer, lots of parts totally fun!
Click here for Garden Photo Creations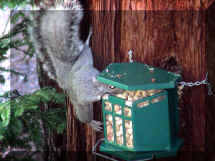 Great Peanut holder, bound to a tree so squirrels can adventure into them. It takes a while for them to figure it out, but sure is fun to watch. They'll love you for every peanut you share.

When you can't be out among the trees, it smells GREAT to have some clippings from the trees in the Fireplace when not in use. Brings the garden indoors.

This was fun. I took many different types of flower pedals and placed them on a dish filled with water, then took the digital camera and went to town. The results have created many animations and many different colorful results for Web content fun.

Lots of creative things can be designed from the garden and digitized, redesigned.
[ Up ] [ Computer Ideas ] [ Design Ideas ] [ Feelings ] [ Game Ideas ] [ Garden Ideas ] [ Gift Ideas ] [ Hiking Home Page ] [ House Ideas ] [ Internet Ideas ] [ Large Creations ] [ Pets ] [ New Venture Ideas ] [ Quit Smoking ] [ Photo Ideas ] [ Productivity Ideas ] [ Uniqueness ] [ What If ]
Created by: Creative Customized Solutions